In this article, ECCO helps buyers better understand the types of connectors and related considerations required for applications where water and environmental exposure exist
When thinking about wet interconnect applications in marine, transportation, industrial, defense and energy industry environments, OEMs need to decide if the connection needs to be waterproof, water resistant or simply well sealed. Waterproof connectors join electrical circuits with an extremely tight seal. Such connectors can create a waterproof seal using a silicone or rubberized O-ring or gasket.
Waterproof connectors have a high IP rating, including dust and water submersion resistance, plus protection from high-pressure water flow. IP protection levels are based on exposure to dust, short/long-term liquid immersion and exposure to high-temperature water or steam.
IP ratings have two digits: the first digit (0 to 6) represents the solids rating, while the second digit (0 to 8 and 9k) is the liquids rating. Most waterproof connectors are rated either IP67 or IP68, which means they are dust-tight and protected against 30min submersion in water at 1m or 1.5m, respectively.
Exposed external connectors are a common entry point for water and dust. Determining an application's intended use at an early stage is important, so that exposed connectors are selected with an IP rating that meets a system's minimum requirements.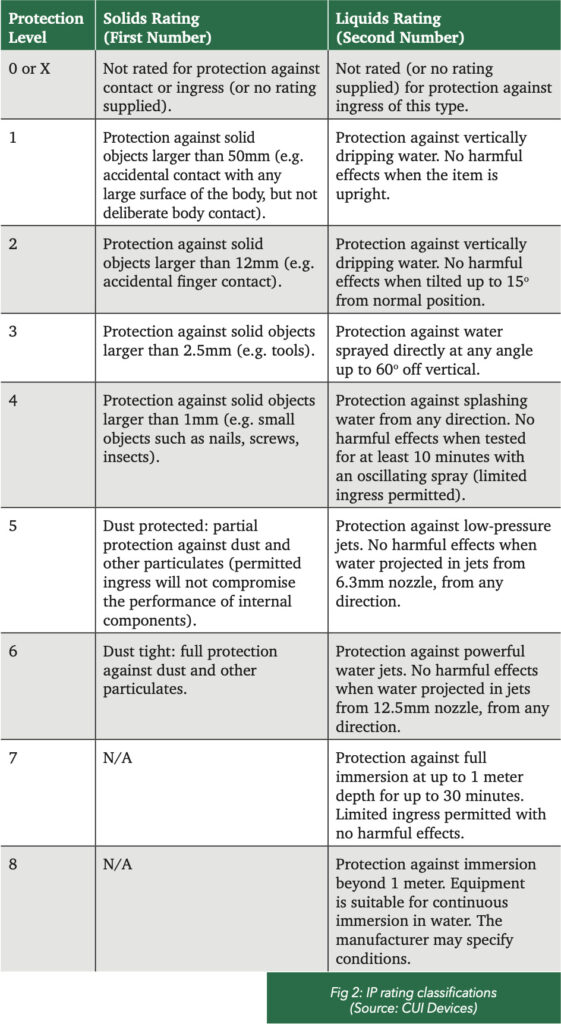 The most prevalent need for IP rated connectors can be found on devices with external ports such as an audio, USB or DC power jack. A proper IP rating will protect internal circuitry from water or dust ingress when no plug or external equipment is connected. In other instances, such as industrial cable-to-cable connections, a connector and plug combination that is fully sealed when mated may be required. A fully sealed connection can prevent dust and moisture from disrupting signals or damaging components exposed to high-pressure water or even full immersion.
It is important to clarify that plugs and connectors with individual IP ratings do not automatically create an IP rated connection. Unless a design integrates an additional sealing mechanism like the screw terminal interface in Fig 3, they are still susceptible to dust and moisture ingress at the connection interface (Fig 4). If the interface was not properly sealed, it could disrupt signals or cause damage to internal circuitry.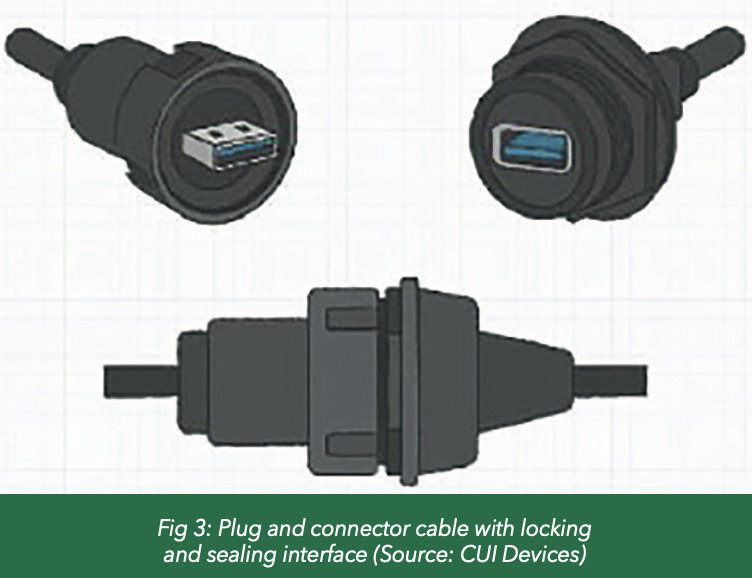 CUI offers a range of IP67 rated connectors including USB receptacles, 3.5mm audio jacks and DC power jacks to give OEMs additional flexibility in rugged applications. Implementing a custom-shaped gasket or O-ring to provide effective sealing, these connectors achieve dust tight protection and full immersion up to 1m in an unconnected state.
Connectors permanently sealed by glass fusion prevent transmission of air, moisture and other gases into electronic equipment used in downhole and other well completion applications. Hermeticity is expressed as the rate of leakage volume of helium per second and glass-to-metal seal technology achieves hermeticity ratings (up to 1×10-10 CC He/s). High temperature vitreous glass is used to provide a robust hermetic seal between metal conductors and metal connector shells. Glenair specializes in the design and manufacture of glass hermetic connectors and can integrate the technology into virtually any connector package or series.
Designed for use in geophysical and other hostile marine and oilpatch applications, Glenair's Series 22 Geo-Marine connectors, cables and bulkhead feed-thrus offer high-density insert arrangements and advanced environmental sealing. Specialized corrosion-resistant materials increase system integrity and lower system cost. Standard mated stainless-steel plugs and receptacles deliver a hydrostatic pressure sealing capability of up to 5,000psi (345bar) and are available in either glass-sealed hermetic or with rigid dielectric environmental insulators.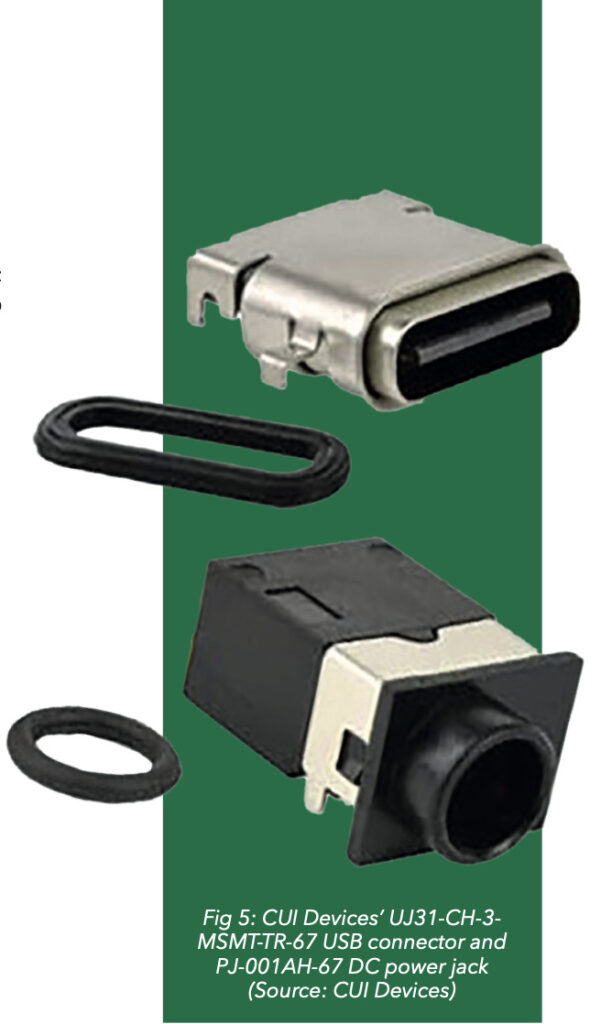 Customized HTHP connectors can be engineered with Inconel body/pin materials or other exotics. Other features include: single-start, stub-acme threads for quick coupling and superior resistance to thread fouling and binding due to dirt and other foreign matter; a castellated and knurled plug coupling ring which provides easy mating and unmating, even with arctic gloves; and plug shell leading edge configuration which assures key-keyway alignment and engagement prior to mating of the plug coupling ring threads.
www.eccoconnectors.com