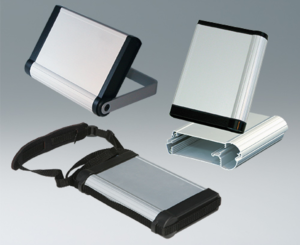 ROLEC has launched a new online configurator that makes it easy for customers to specify customized mobilCASE handheld enclosures and generate CAD and PDF files of their specific housing.
Tough mobilCASE is a smart, modern range of extruded aluminum enclosures for handheld electronic instruments and machine/robot controllers. It can also be mounted horizontally or vertically for display or control panels.
The case extrusion is offered as a single profile (IP 65) for slide-in PCB assemblies or as a two-part profile (IP 54) which allows keyboards and displays to pass through the top profile if required. Both sides of the profile are recessed to accommodate a membrane keypad or product label. Diecast aluminum end covers with TPE sealing gaskets complete the case assembly.
The configurator enables customers to select which case extrusion they need in three standard widths (to suit 3.15", 3.93" or 5.11" wide PCBs) and in custom lengths from 1.96" to 19.68". An end cover kit must then be selected. These are offered in different combinations of flat and deep end covers, also in combination with a tilt stand or wall pivot mounts.
Customers can then review their custom-sized mobilCASE in 3D and zoom or rotate it. Views include model shading and model position (front, rear, left, right, top, bottom, isometric or animation). There are also virtual reality modes (anaglyph, Dreamoc HD3, Dreamoc XL2, full screen with cut, animation, isometric, edges, shaded with edges). Other 3D functions include zoom all, zoom to object, cut, exploded view and screenshot.
There is also a wide selection of moveable and zoomable 2D drawing views including  isometric, three projection views (EU, US), three views plus isometric drawing in frame (JIS, DIN, ANSI), six projection views (EU, US) and six views plus isometric drawing in frame (JIS).
Accessories for mobilCASE include a shoulder strap, holding bracket, battery cradles (2 x AA, 4 x AA) and an M16 cable gland.
ROLEC can supply mobilCASE fully customized. Services include CNC machining, painting, powder coating, engraving, laser processing, digital printing, membrane keypads, display windows and full assembly.
For more information, view the ROLEC website: www.rolec-usa.com