Developers and designers are facing new challenges; PCBs and their connectivity technology are becoming smaller and more powerful, whilst industrial applications require customisable solutions. As a leading supplier of PCB connectors, HARTING have created two unique product innovations that will take PCB connectivity into the future.
The new HARTING har-modular® PCB connector system gives you over a billion combination possibilities for data, signal, and power. Using the online configurator, you can create a design using standard available components which is suitable for your exact requirements and uniquely configured for any application.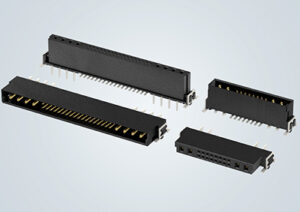 In addition, the miniaturised design and flexibility of the har-flex® PCB connector offers device manufacturers a freely scalable connection technology. Able to transmit data, signal and power, har-flex® delivers a wide range of connection solutions for PCBs, featuring numerous designs and pole counts.
To learn more about har-modular® and use the online configurator, please visit https://www.harting.com/UK/en-gb/har-modular.
For more information on har-flex®, head to https://www.harting.com/UK/en-gb/solutions/pcb-connector-harting-har-flex or email [email protected]