Despite slower economic growth and global geopolitical uncertainty, the sensor market will post double-digit growth this year.
The worldwide sensors market will grow 17.2 percent to $22.4 billion this year as demand increases from communications, automotive, and industrial segments and prices increase for the second straight year, according to World Semiconductor Trade Statistics (WSTS).
In 2021, tight supply and higher prices resulted in the sensors market growing 28 per cent to $19.1 billion, WSTS said. In 2022 demand will remain strong but supply will improve so prices won't increase as much as in 2021 and the revenue growth rate will be a little less than last year, according to industry analysts. 
Jim Feldhan, president of Semico Research, said prices in 2021 increased 27 per cent to $0.41 rising from $0.33 in 2020. He said prices increased because there wasn't enough capacity to meet demand and because of the continuing disruption in the supply chain.
"Certain materials were hard to get. There's a fair amount of sensors that are made in Asia and there have been shipping issues with container ships," said Feldhan. As a result, unit shipments of sensors only increased 1.2 per cent in 2021 over 2020, he said. 
Sensor manufacturers have been adding capacity, so unit production could increase in 2022. For instance, Bosch, the leading producer of sensors, announced in February it would invest $297 million to create additional production space at its Reutlingen, Germany fab for production of sensors and other chips. 
However, supply increases were not felt in the first quarter of the year. "Sensors demand so far in 2022 has been healthy and strong," said Rob Lineback, senior market research analyst for IC Insights. Sensor manufacturers "can't keep up with demand yet," he said. In the second half of the year, supply of sensors should improve, he said.
Prices will rise 
Even with some extra capacity coming online later in the year, prices will rise in 2022, but not as much as in 2021, said Feldhan. In 2021, the average price of a sensor was $0.41. In 2022, the average price will increase to $0.44.
Because sensor manufacturers are making capacity expansions, "we think in 2023 we are going to see a return to normal growth patterns for sensors," said Feldhan. "We have a 7.8 per cent growth in units in 2023 and a 9 per cent increase in dollars. Average selling prices still expected to rise, but just slightly from $0.44 to $0.45, he said.
Demand for sensors will rise in 2022 and for years after because more electronics equipment and systems are using them. In addition, demand from traditional electronics segments such as computers has increased.
"Communication is the biggest user of sensors," said Feldhan. About 1 billion cell phones ship each year and each cell phone has seven or more sensors. "The 5G phones rollout expansion is not over," said Feldhan. "We think that is going to last until through this year and next year." He noted 5G phones are more sophisticated and they have a few more sensors than 4G and other older phones.
"Automotive is probably the second largest user of sensors because there are just so many sensors in a car," he said. About 80 million cars are built each year and each vehicle has about 70 sensors. 
Sensors in everything
Other equipment segments are using more sensors, including industrial, medical, consumer electronics. "Everything needs sensors," said Feldhan. "Portable devices and even white goods are using more electronics and using more sophisticated sensors for power management and temperature control," said Feldhan.
He said there is growing demand for energy-efficient appliances and the "only way to do that is through the use of more electronics, which typically includes sensors."
He noted that Internet of Things (IoT) applications require sensors and IoT is "in the growth stage of its maturity lifecycle," so it will contribute to sensors demand.
While demand is strong for all types of sensors, pressure sensor demand has been particularly robust, according to Lineback. Pressure sensors are used in many industrial applications to measure liquid levels in tanks, to monitor process flow, to identify gas or steam leaks and measure pumping pressures among other applications.
"Accelerometer sensors, used in mobile phones, navigation systems, laptops and machinery, have had double-digit growth rates but demand for them has not been as strong as pressure sensors. Accelerometers are used to detect positions of mobile phones, computers and to track vibrations in industrial machines position of mobile phones and computers and to display upright position of digital cameras, among other uses.
Demand for magnetic field sensors, used in a wide range of scientific measurement, navigation, and industrial applications, is growing but at a slower rate than pressure or accelerometer sensors.
"There is so much automation and embedded sensing going into so much equipment," said Lineback. "That is why the sensor demand will remain strong going forward."
Marcellino Gemelli, general manager of automotive electronics for the Americas at Bosch, said for automotive applications, "we see high demand in all sensor segments, especially in the area of inertial sensors. The increasing demand for high-performance sensors for driver assistance systems or localization functions is noticeable," he said.
Sensors market pushes upward
More VoC sensors wanted
He added there has also been an increase in demand VoC gas sensors for smart home/smart building applications. VoC gas sensors indicate the quality of the air and are used to control ventilation systems. "Providing fresh air is a proven means to prevent Covid-19 infections," he said. 
Gemelli noted sensor demand also increased from notebook and media tablet segments over the past two years. Demand for notebooks and tablets had declined prior to 2020 but rebounded during the pandemic. "That had a positive impact on sensor use," said Gemelli. 
Sensor demand is also increasing in the hearable/true wireless stereo earbuds segment, he said.
Feldhan noted that there is growing demand for sensors in servers used in data centers with cloud applications. "When you look at servers, there's a lot of temperature sensors that keep track of heat on the circuit board. Cloud applications are not going away," he said. "It's going to continue to grow."
In addition, the hybrid work model of people working from home and in the office is also not going to go away, said Feldhan. That means companies will continue to add equipment for security and connectivity and that will drive semiconductor demand including sensors.
Sensor unit shipments skyrocket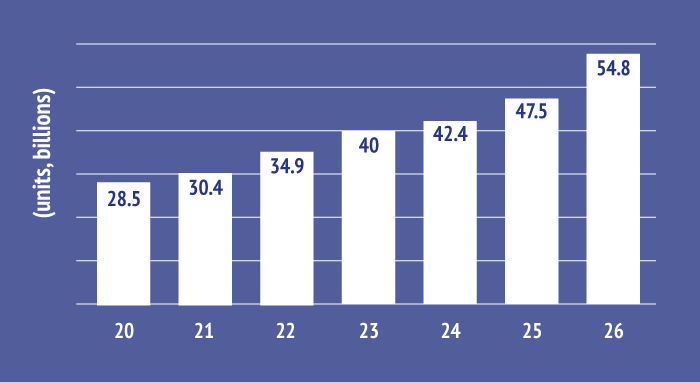 Demand stays strong
Sensor demand is expected to be strong for several years. Lineback said despite the current tight sensor supply, leading sensor manufacturers such as Bosch, TDK, Honeywell and STMicroelectronics, should be able to meet future demand once more capacity is added and supply chain issues are resolved.
Of course, demand for sensors and other semiconductors could decline later in the year if global economic conditions deteriorate precipitously. In addition, the war in Ukraine could potentially adversely impact economic growth resulting in less demand for many products, including semiconductors such as sensors.
Gemelli noted that at the beginning of 2022 sensor demand was strong in the mobile and consumer MEMS sensor segment and automotive. "The outlook for 2022 was looking good until recent events, i.e. the Russian invasion of Ukraine, serious Covid-19 lockdowns in Shanghai and growing inflation," made it impossible to say how business will be later in the year, he said.
However, some analysts say despite potential headwinds due to slower economic growth and the war in Ukraine and rising inflation, the sensors market should still post double-digit growth in 2022.
"The growth rate for sensors early in the year was fairly strong," said Lineback. "We're sticking with our 16 per cent growth forecast for this year. It looks like it's on that track."
IC Insights' forecast for the sensor market, not including actuators, says sensor revenue will grow from $12.7 billion in 2021 to $14.7 billion in 2022. Unit shipments will increase from 30.4 billion last year to 34.9 billion and the average price will rise 1 per cent.