Berkshire Hathaway chairman Warren Buffet likes the No. 1 contract supplier of wafers to the global semiconductor industry so much that he gave a shoutout to Taiwan Semiconductor Manufacturing Co. Ltd. in his annual address to his company's shareholders. Buffet had just sold most of Berkshire Hathaway's interest in the foundry, but he still admitted thinking highly of TSMC, noting that the semiconductor manufacturer was battling through strong geopolitical headwinds and economic factors over which it has limited or no control.
"Taiwan Semiconductor is one of the best-managed companies and important companies in the world," Buffet told the investor audience. "I don't like its location and reevaluated that, … [but] there's no one in the chip industry that's in their league, at least in my view."
The world's most-renowned investor is not the only one keenly interested in the world of foundries nowadays. The contract manufacturing of semiconductor wafers for fabless chipmakers is a large and growing business. Analysts estimate the foundry business generated revenue of $101.6 billion in 2022. They project foundry sales will jump by 2030 to $182.9 billion, growing at a compounded annual rate of 6.5% and making it one of the more viable segments of the global electronics supply chain. 
Foundries have become so central to the semiconductor industry that governments and legislators worldwide now keep a close watch on them and their investment actions. Political players especially in China, the European Union and in the US have in recent years taken steps to either protect or limit the ability of foundries to influence national and regional economies as semiconductors continue to infiltrate all segments of society, according to observers. 
"One of the major factors driving the market growth is the increasing demand for integrated circuits (ICs) for use in cars, consumer electronics, medical devices, military equipment, and smart home appliances," said analysts at Verified Market Research, in a report. "The increasing global adoption of Internet of Things (IoT)-enabled devices is driving up demand for integrated circuits (ICs). In addition, the government funding for the advancement of semiconductor technology from a number of countries is propelling the industry forward and driving the growth of semiconductor foundry market."
The patronage of foundries by fabless semiconductor suppliers has surged across the industry over the last couple of decades. One factor behind this was the high cost of establishing new semiconductor fabrication facilities (put variously today at between $10 billion and $20 billion) and the efficiencies that companies expect to gain from outsourcing production to enterprises like TSMC, Globalfoundries, Semiconductor Manufacturing International Company (SMIC) and United Microelectronics Corp. By specializing solely in the production of integrated circuits designed by others and eschewing competition with customers, foundries have become the new darlings of the technology world, analysts said. 
"The cost of building state-of-the-art chip foundries has increased exponentially, which puts pressure on the industry," said analysts at Global Information, in a report. "Moreover, governments in countries, such as the United States, South Korea, Taiwan, and other major hubs for foundries, are also increasingly investing and incentivizing to expand the industry presence of their respective countries. For instance, the South Korean government recently announced that it plans to invest about $451 billion in tax benefits to boost chipmakers' competitiveness amid a critical global shortage of key components. Such trends are expected to propel the respective countries' position in the worldwide market."
A majority of the world's biggest semiconductor companies began turning towards the fabless model more than a decade ago as they tried to improve their productivity and margins. Shorn of elevated capital expenditure, R&D and packaging costs required to maintain a position, companies like Advanced Micro Devices, NXP, Nvidia, and Qualcomm have seen their competitive positions improve dramatically over the last years. Many integrated device manufacturers (IDMs) that used to compete on manufacturing excellence have pulled back, turning over more and more of their production activities to foundries like TSMC. 
As a result, TSMC's sales have surged over the past decade, turning it into one of the world's biggest and most valuable semiconductor companies. In 2022, the company recorded revenue of $75.9 billion, an increase of 43 percent from the prior year. Net income for the year rose to $34.1 billion, up 70 percent year-over-year and making the company one of the most profitable semiconductor vendors in the industry. The company's net revenue in Taiwan dollars has nearly quadrupled since 2015 and it has grown since then to become the dominant player in the foundry market with a market share of approximately 60 percent. 
"Concluding 2022, the semiconductor industry growth excluding memory, was about 10%, while foundry increased about 27% year-over-year. TSMC's revenue grew 33.5% year-over-year in U.S. dollar terms," said C.C. Wei, TSMC's CEO, during a presentation of the calendar year results to analysts. "TSMC's mission is to be the trusted technology and capacity provider for the global logic IC industry for years to come. Our job is to provide the optimal solutions for our customers to enable their success. This includes technology leadership, manufacturing, cost, trust and recently also geographic manufacturing flexibility."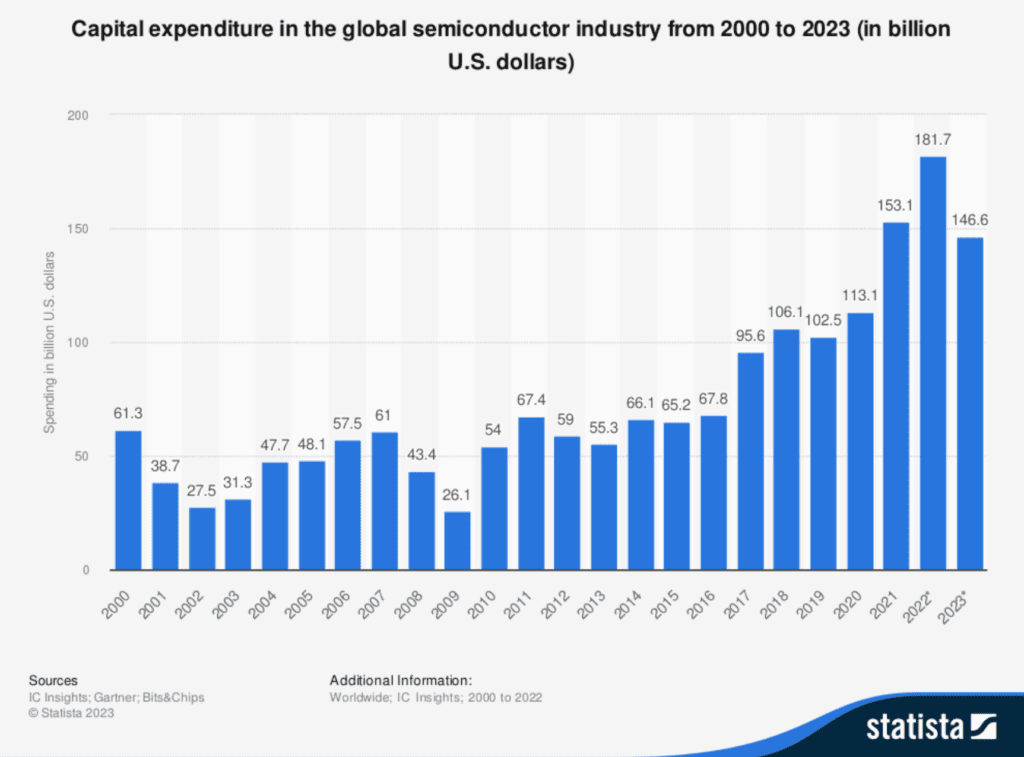 Supply squeeze
Foundries were hurtling towards what could have been a complete dominance of the semiconductor manufacturing business until recently when a supply chain crisis starting with the outbreak of Covid-19 pandemic forced companies and governments to begin questioning the wisdom of concentrating so much production in a few hands or regions. Supply constraints grew over the last couple of years, pushing up prices and lead times. Although the market has since weakened, automotive manufacturers are still being squeezed due to the demand-supply imbalance that started when chipmakers slowed production after the Covid-19 outbreak. 
The pandemic made even IDMs that were considering cutting internal production and increasing the use of foundry partners to reconsider this strategy. Companies like STMicroelectronics raised their capex to meet surging demand and others followed. Capital expenditure across the industry surged to a record $181.7 billion in 2022 from $153.1 billion in 2021. 
The increased spending was not just at foundries like TSMC, which launched a fab building spree and said it would spend $100 billion on capex in 3 years. IDMs like Infineon, Intel, Micron, Texas Instruments and STMicroelectronics jumped on the fab construction bandwagon. It suddenly looked like the burgeoning foundry era was about to end even before it began taking hold. Government subsidies and financing support further reinforced this perception. The American government passed the Chips Act legislation with the objective of sparking a renaissance in local semiconductor production. 
Similar initiatives have since been launched in Europe, Japan and South Korea. Governments in these countries and regions were concerned that the concentration of semiconductor production in certain geo-economic regions – mainly Taiwan – was fraught with risks and began taking steps to encourage enterprises located in their geographic zones to increase local production. The efforts have been largely successful. Companies like Intel rolled out plans to build new fabs in North America, the first in nearly 20 years. In Europe, Infineon Technology and STMicroelectronics have announced fab construction activities amounting to billions of dollars. Worried about supply constraints, even automotive companies have taken steps to set up internal chip design units and began engaging directly with semiconductor vendors to plan their short- and long-term supply needs. In specialized market segments serving the auto industry, chipmakers like WolfSpeed are racing to add new fabs that would supply silicon carbide to customers, consolidating their grip on the market segment. 
Even TSMC joined the throng. The foundry market leader, which had always insisted that manufacturing in Taiwan was more efficient than in North America or in Europe, has increased funding for new fabs in the United States. It is adding new fabs in Arizona and reviewing opportunities elsewhere globally. "Based on customers' requests, we are increasing our capacity outside of Taiwan to continue to provide our customers with the optimal solution they need to be successful," said CEO Wei, during presentations to analysts. "TSMC's decisions are based on our customers' needs and the necessary level of government support. Our decisions are also based on the talent pool, land, electricity and water needs for TSMC's long-term growth. In the U.S., we are in the process of building 2 advanced semiconductor fabs in Arizona. Our U.S. customers welcome us to build capacity in the U.S. to support their need and have pledged their strong commitment and support."
Wei detailed other actions that TSMC is taking elsewhere, adding: "We will also consider building additional mature node capacity outside of Taiwan. In Japan, we are building a specialty technology fab, which will utilize 12- and 16-nanometer, and 22/28 process technologies. We are also considering building a second fab in Japan, as long as the demand from customers and the level of government support makes sense. In Europe, we're engaging with customers and partners to evaluate the possibility of building a specialty fab, focusing on automotive-specific technologies, based on the demand from customers and level of government support. In China, we expand 28-nanometer in Nanjing as planned to support local customers, and we continue to follow all the rules and regulation fully. At the same time, we continue to invest in Taiwan and expand our capacity to support our customers' growth."
But it was the increased production promised by IDMs like Intel, Micron, ST and TI that highlighted the depth and speed of the changes going on in the semiconductor supply chain. Having experienced the disruption caused by the recent demand-supply imbalance, political leaders, OEM executives and semiconductor manufacturers agreed about the need to change the dynamics of the IC market. The huge capex investments announced recently by companies like Infineon, Intel, Micron and others have reignited interest in the IDM model. But even these will not dampen the growth of the foundry market, observers said. 
"We do not see any slowdown in our customer's [desire] to adopt TSMC's leading-edge technology," said TSMC's Wei. "They might have a different kind of product schedule. They might have a different kind of product plan. But the technology adoption, did not slow down."