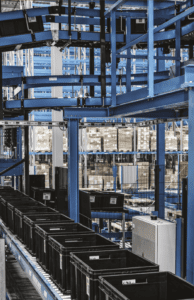 From order placement right through to delivery, ESNA takes a look at a day in the life of an electronic component
You probably know the little thrill you get when the mail man hands you an eagerly awaited parcel containing a product you ordered online. In B2B business the thrill might be a bit smaller and the parcel a bit bigger, but on time shipment is even more important, otherwise a whole production line may come to a halt.
Most people only have a vague idea of the underlying processes that lead to a successful delivery of electronic components. As a broadline distributor, Rutronik needs to cope with a variety of different shipment volumes and product quantities. Depending on the order, some tasks may vary, but in general, the majority of customer orders are handled in a similar way.
An order is placed
Well, firstly, an order is not just an order. To offer customer-specific solutions, there are three different types of logistics systems available: a delivery plan system, a Kanban system, and a consignment warehouse. These consist of standardized elements but can be adjusted to fit individual requirements.
Each order is channeled via the main logistics hub in Germany but gets processed in the warehouse location closest to the recipient. This helps ensure a globally uniform standard of service.
Delivery plan system
This is pretty much your basic ordering process and is suitable to all available components at Rutronik. Based on expected production figures, the customer forwards their desired bill of materials to Rutronik at fixed intervals. The BOMs are then subject to warehouse operations and get picked, packed and sent out to the customer in the desired time frame.
Consignment warehouse
A consignment warehouse is ideal for manufacturing lines that can face short-term fluctuations and need a high degree of independence from delivery schedules.
But what does that mean in a practical way? A consignment warehouse is designed to work like a Rutronik warehouse at the customer's premises. The client provides the storage space and Rutronik provides the stock. The customer is then free to take out parts according to production capacity, which results in greater flexibility than a delivery plan system. The fulfillment schedule can be based on a forecast, much like the delivery plan system, or on a component consumption report that states the withdrawn quantities and part numbers.
Kanban system
This system combines the previous two systems. The so-called Kanban containers are defined in the run-up with a certain filling quantity of components and are tagged with an individual identification code. This code contains all necessary information of the container's contents including part numbers, quantity and location. The codes are listed on a Kanban card. In case a container is empty, this card will be forwarded to Rutronik electronically, which then starts the delivery process and the container will be re-filled.
Parts enter the warehouse
A fully functioning warehouse is comparable to a well-oiled machine. Many different parts are working together to guarantee a smooth operation. With a warehouse, this begins before the actual incoming shipment even arrives. Due to logistic tracking, it is possible to know well in advance which shipment contains which parts, in what quantity, and what package size. This means that every component is already booked into the logistic system, before it even reaches the warehouse. This accelerates the process of labeling and storage and guarantees full traceability of components during their whole journey. It's even possible to know before hand, if a shipment contains parts that are urgently required by a customer and need to be handled as a priority.
After the parts have been received, each package unit is inspected visually, and is then individually marked with a label that contains all necessary information, such as Rutronik's part number, and the supplier number, before storage. By doing so, full traceability of each part is ensured, and we can intervene in a part transaction at any given time.
After the customer has chosen their preferred logistics solution, everything is ready for the first order, which starts a variety of internal processes at Rutronik.
Components are picked
Picking describes the actual removal of the component from the warehouse shelf. The customer's order is forwarded to a picker together with the exact location of the goods. This minimizes the time spent looking for specific components inside the warehouse, which, at 22 billion articles readily available, can take quite some time. The individual orders that need to be picked are not chosen randomly. An algorithm that takes numerous parameters into consideration prioritizes the order of sequence, so each shipment arrives at the customer on time.
The picked items are placed in a container, called a 'tote' that is then forwarded for shipping on a conveyor belt. Each tote has an ID-tag, so every order can be tracked individually during the ordering process.
When a tote reaches the shipping area, a complex infrastructure of conveyor belts direct it automatically to the packing station with the least traffic. This also ensures an absolute minimum of transit time for the shipment inside the warehouse.
Items are packed for shipping
During packing, items are handled according to customer specific needs. Components that are sensitive to humidity are stored within a special packing inside the warehouse and get checked multiple times during picking and packing. It's also possible to have the goods marked with customer specific labels or have a second outbound inspection, in addition to the mandatory inbound inspection.
By offering additional services like these, processing time at the customer's premises can be minimized. This way, each shipment reaches its destination exactly the way the customer wants it to be and can be processed immediately.