However, the analog chip market will bounce back in 2021 as both demand and prices increase.
Buyers can expect declining prices for analog ICs for the rest of the year and into 2021 because of overall weaker demand and ample production capacity.
The worldwide analog chip market will decline 5.8 per cent in 2020, due in large part to COVID-19, which has resulted in less electronics equipment and semiconductor demand.
The analog IC market will fall from $53.9 billion in 2019 to $50.8 billion, according to World Semiconductor Trade Statistics (WSTS).
Analog chip unit shipments will fall 2.4 per cent in 2020, according to Semico Research. Because of weaker demand, analog IC prices will end 2020 dropping 2.55 per cent, according to the researcher.
Jim Feldhan, Semico president, said the analog IC market will fare worse than the overall semiconductor market in 2020. While the overall semiconductor market will grow 3.3 per cent, the analog IC market will drop 2.4 per cent.
Much of the decline of analog ICs in 2020 is with standard analog chips such as AC/DC and DC/AC converters. "Those are the cheaper products," said Feldhan. However, there is also a decline in demand for application specific analog products because of weakness in the automotive market.
Standard analog represents about 40 per cent of the revenue and 60 per cent of unit shipments in the overall analog IC market. Within standard analog, power management is the largest category. Application-specific analog accounts for 60 per cent of revenue and 40 per cent of analog chip units.
The biggest customer segment for analog is communication, which represents 49 per cent of the analog revenue and 34 per cent of units. Automotive accounts for about 30 per cent of analog IC revenue and 22 per cent of unit shipments, said Feldhan.
"The interesting thing is the industrial market" which uses a lot of the low-cost standard analog. "It only represents about 9 per cent of revenue, but 30 per cent of units," said Feldhan. "There are thousands of customers and they tend to use standard solutions instead of application-specific solutions."
Growth in medical
While overall analog IC demand declined this year, some customer segments have actually increased orders for analog ICs. Case in-point: the medical equipment market.
"There has been a lot of growth in the medical market business portion of the industrial market," said Nina Turner, research manager semiconductor applications forecaster at research firm IDC. "For example, Texas Instruments (TI) in the last quarter was up 2 per cent in the medical market, year-over-year compared to the previous year," she said. Texas Instruments is the largest analog IC maker in the world. However, TI's overall analog IC revenue in the second quarter was down 4 per cent compared to the fourth quarter 2019.
In a recent financial conference call, TI officials said declining sales were primarily due to weakness in the automotive market. TI's automotive business fell about 40 per cent from the first quarter and declined 40 per cent from the second quarter of 2019. Excluding automotive sales, TI's sales were up 8 per cent from the first quarter and down just 3 percent from the same quarter a year ago.
"The automotive market appears to have bottomed in May as North American and European assembly plants resumed operations," said Dave Pahl, vice president and head of investor relations for TI. TI's industrial business increased 2 percent quarter over quarter and was also up 2 per cent compared to the second quarter 2019.
"There are end markets that are weak and others that are understandably strong, like medical," he said. TI's sales to personal electronics manufacturers were up over 20 per cent sequentially and up about 10 per cent compared to the same quarter a year ago. "This can best be explained by work-from-home trends and TI being in a position to support un-forecasted demand in the second quarter," said Pahl. TI's communications equipment business was up 20 per cent sequentially but down 15 per cent compared to the second quarter of 2019.
Turner said another segment that is "doing quite well is the mobile PC market because of the whole stay-at-home trend" due to COVID-19.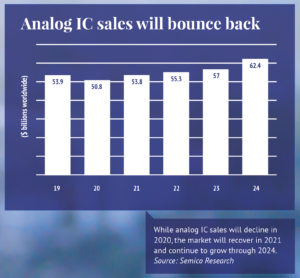 Weak automotive demand
However, overall weaker analog IC demand from automotive, aerospace and other segments has resulted in declining prices "There is some pretty good price competition," said Feldhan. "We are seeing in 2020 overall prices dropping 2.55 per cent. That could reflect oversupply," he said.
However, price declines will likely be short-lived because demand will likely pick up later in the year and in 2021. "We think the inventories will be pretty low In in 2021 and the market will be better so we expect to see rising prices next year. Prices should go up 3 per cent for the year," he said. Increased demand and higher prices mean the analog IC market will recover.
"Third-quarter revenue will be up almost 6 per cent and 4 per cent in the fourth quarter," said Feldhan. Revenue growth will continue to increase in 2021 when analog semiconductor sales will rise 5.9 per cent to $63.8 billion, according to WSTS. "It will be a pretty nice recovery," said Feldhan.
The bounce back of the analog IC market will occur because of strong demand from the communications, industrial, and automotive segments, he said. "We are seeing 8.8 per cent growth in 2021" in analog demand from those segments, said Feldhan.
Analog demand from automotive fell sharply earlier this year as automakers closed plants for four to five weeks. However, most automotive assembly operations have reopened and demand will likely build over the next 12 months.
In addition, Internet of Things applications will also drive analog over the next year. "If you look at all of the edge devices that are out there, a lot of those are wireless and have radios, which have analog chips such as power management IC and voltage regulators."We continue to see IoT gaining momentum," he said.
The continued build out of 5G networks will impact the analog market. "Five-G infrastructure uses larger modems and radios," which use analog chips, said Feldhan. Five-G handsets also use a lot of the analog ICs, said Feldhan.
Modest growth likely
Analysts say that the longer-term outlook for the analog IC market is positive, although growth will be fairly modest. In 2018, analog IC revenue totaled $58.7 billion. It won't be until 2023 when sales reach that level again. Feldhan said analog IC with have a compound annual growth rate of 2.9 per cent through 2024 when sales will increase to $62.4 billion.
Recovery of the analog market should occur in all regions of the world. "For the first quarter, China was terrible. When the pandemic hit, China shut down and analog IC revenue dropped 11 per cent in the first quarter and Asia-Pacific was down 2.8 per cent," said Feldhan. However, China started to recover in the second quarter, while analog business in the Americas and Europe declined. The Americas and Europe should bounce back in the third and fourth quarters, he said.
While the analog IC market is recovering, the good news for semiconductor buyers is that there is plenty of competition. While the top 10 analog chip manufacturers hold about 62 per cent of the overall global analog market, none of them have more than 19 per cent market share.
TI is the analog IC market leader with about 19 per cent share, followed by analog devices at 10 per cent and Infineon with 7 per cent share. Seven other companies all have 7 per cent or less market share.