While European distribution sales will end 2020 declining, most distributors believe business will bounce back next year as demand increases from automotive and industrial segments.
The European electronics distribution business will fall about two to four per cent in 2020 due in large part to the coronavirus pandemic, but distributors expect a return to sales growth in 2021.
Distribution business in Europe was down about 5 per cent in the first half of the year compared to the first half of 2019, but there were signs of improvement in the third and fourth quarters, according to Adam Fletcher, Electronic Components Industry Association's director for Europe, Middle East and Africa (EMEA). He said distribution business in Europe will drop about two to four per cent for the whole year.
"Most of the pain was felt in the United Kingdom and Germany," he said. "The UK was down about 10 points and Germany was down seven points. "I can't tell you exactly why the UK was down, but Germany was down because the automotive market had declined sharply," said Fletcher. Many automotive plants closed in the second quarter, resulting in less overall demand for components in the automotive supply chain.
While distribution sales have declined this year, the European distribution business is faring better than the overall components market. The European total available market (TAM) for components declined 10 per cent in the first half, while distribution sales fell five per cent. European TAM will likely fall four to eight per cent in 2020 compared to two to four per cent for DTAM, said Fletcher. One reason for declining TAM and DTAM is the automotive market. "We are not seeing a bounce back yet in automotive," said Fletcher.
One distributor that has seen declining sales in Europe is Avnet. Beginning in March Avnet faced "a few months of revenue decline in Europe, mainly due to order rescheduling, some cancellation and most importantly, extreme caution of customers to place new orders as they lost some visibility into their end markets," said Mario Orlandi, president of Avnet EMEA. All industry segments were affected, but "we see that automotive is coming back slower than, for example, industrial or communications," he said.
Despite continued weak demand from automotive, sales of semiconductors, connectors, passives and other components are starting to come back, but "we are not at the same level as last year. We think it may take two to three years to get back to pre-COVID-19 levels," said Orlandi.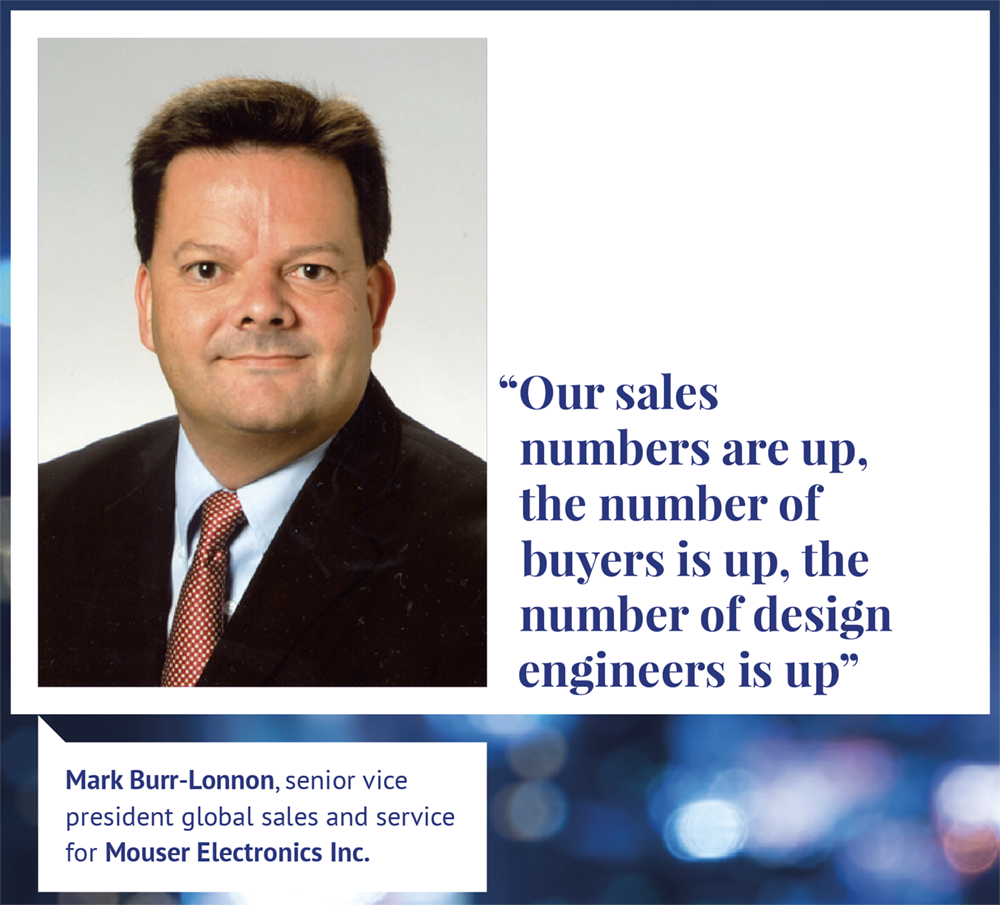 Supply interrupted
The pandemic is still having an impact on supply. At the beginning of the pandemic, the supply chain in Asia "was massively disrupted in components production as well as associated processes" such as the packaging of semiconductors in low-cost countries like Malaysia, said Orlandi. In addition, transportation capacity was reduced due to airports being closed. Costs have increased dramatically and are only slowly coming back to normal. "At the moment, with the initial disruptions being over, we see significantly prolonged lead times from several suppliers," said Orlandi.
He said while overall sales declined, there were some bright spots in component demand. Earlier in the year component demand increased from medical and communications equipment OEMS and their electronics manufacturing services providers.
"That was the case in the beginning of the pandemic, but it has come back to normal levels," he said. "What we currently see is a greater urge to drive digitalization forward in all parts of society and this may lead to a huge surge in technology and thus component demand. Cloud computing and data center business are growing, but this concerns components distribution only selectively," said Orlandi.
Mark Burr-Lonnon, senior vice president global sales and service for Mouser Electronics Inc., said Mouser's overall business in Europe has been spotty, depending on the customer segment and country, but overall sales increased at about three per cent for the year as of late September. "Our sales numbers are up, the number of buyers is up and the number of design engineers is up," said Burr-Lonnon. "COVID-19 has not had a significant effect on our business in Europe.' However, while sales have increased in Europe, the region has the slowest growth rate to date of any region for Mouser. "Asia is growing the strongest, and followed by the Americas then Europe," he said.
Mouser's medical business in Europe is up 16 per cent, but its transportation business which includes automotive is down 18 per cent and the general industrial market is probably flat or down a few per cent, said Burr-Lonnon. Mouser's EMS business is flat in Europe.
Business also varies by country. "Germany is up a little bit; France is down the worst and the UK is down. After that Spain is up for us, Poland is up a lot, about 12 percent," he said.
Engineers do their thing
One reason Mouser's sales increased in Europe is, despite the pandemic, "design engineers keep designing," said Burr-Lonnon. Most of Mouser's business is supplying parts to design engineers.
Because of the pandemic, many engineers are working from home. "It doesn't matter where they are," said Burr-Lonnon. Engineers use the web a lot to find new products and design. It doesn't matter if they are the office or at home. In fact, there may be an advantage to working at home for engineers, he said.
Family members notwithstanding, they don't have as many distractions when working at home. For instance, there are no salespeople coming to their door to talk about the benefits of a new product "They just go to the web and do their designs," he said. "They're happy as Larry going to a website looking at the new parts and doing their designs. No one is bothering them," said Burr-Lonnon.
Rob Rospedzihowski president, sales, for Farnell EMEA, said that COVID-19 has created challenges for all companies in the supply chain as companies have transitioned to a work-at-home model.
"As the pandemic emerged, our priority was to ensure vital products were delivered as quickly as possible and we implemented an urgent critical medical order process to expedite the dispatch of components for a range of medical equipment, including ventilators, testing kits and front-line essentials such as power supplies," he said.
Rospedzihowski said European business has been "bumpy". He said Farnell has been buoyed by business improvement in "the Nordic countries as well as Eastern Europe and some promising signs of recovery in Germany." Emerging markets including Turkey and South Africa are also improving. "For the UK, COVID-19 challenges remain and the added uncertainty of Brexit continues to hold the UK market back somewhat," said Rospedzihowski.
A bounce back in 2021?
While overall distribution business in Europe may decline two to four per cent in 2020, distributors are expecting a recovery in 2021. However, because of COVID-19, there are no guarantees of a bounce back in business.
"It's hard to say what business will be one year from now in Europe because of COVID-19," said Burr-Lonnon. He said some think the electronics business will grow five per cent next year. "If that happens, I would be surprised if we don't grow twice that," said Burr-Lonnon.
He says while the automotive business in Europe is down, "we know it won't stay where it is." The EMS and the general industrial market will also improve.
Fletcher said if COVID-19 is still "disruptive" around the world, then "I think we will continue to bounce along the bottom." But if the impact of COVID-19 wanes because of vaccines and improvements in treatment, "I suspect the European market will grow quite nicely," he said.
If the number of new coronavirus cases are reduced, there could be three to four per cent growth in Europe in 2021, said Fletcher. If greater progress is paid toward eradicating COVID-19, there could be five to six per cent growth, said Fletcher.