Increased computer sales during the pandemic has resulted in greater demand for microprocessors.
Semiconductor buyers can expect average prices for microprocessors to increase about 3.2 per cent over the next 12 months as demand rises because of higher sales of servers, notebooks and other PCs.
The average price for microprocessors used in computers will rise from $93.67 in 2020 to $96.70 in 2021 due to overall higher demand and because more higher end processors will be purchased, according to researcher IC Insights.
Higher average prices will help drive MPU revenue growth as the global microprocessor market will increase from $41.6 billion in 2020 to $45.2 billion in 2021, the researcher said. Unit demand will also rise from 445 million units in 2020 to 468 million in 2021, the researcher said. Longer term, the computer processor market will grow to $48.9 billion by 2024 and the average price for an MPU will be $99.95. Computer MPUs include x86 processors from Intel and AMD, IBM's Power processors and ARM-based MPUs including Qualcomm's Snapdragon. The category does not include embedded processors or application processors used in cell phones, said IC Insights.
The increase in revenue and units shipments is welcome news to Intel, AMD and other microprocessor manufacturers. The microprocessor market declined in 2019 as revenue dropped to $40.7 billion from $41.9 billion in 2018. Many industry analysts thought that the processor market, as well as the overall semiconductor market, would suffer steep sales declines in 2020 because of the coronavirus pandemic.
Alan Priestly, VP analyst in the technology and service provider research team for Gartner Inc., said Gartner downgraded its MPU forecast after the pandemic hit. "We lowered the forecast after the first two quarters of the year from our original $50.9 billion forecast" for the overall MPU market," he said. "But then we had to bring it back up again" because Internet service providers were buying more servers which helped boost processor sales.
The increase in demand for servers happened after the pandemic spread from Asia to Europe and then to the Americas in the first and second quarters and countries locked down. Many people had to work from home and many children attended school virtually connected by computers and high-speed Internet. As a result, many stuck-at-home people purchased computers which helped drive microprocessor sales. Server sales also increase as more servers were needed to handle increased Internet traffic.
That trend continued into the fourth quarter. Sales of processors used in traditional PCs, tablets, servers, supercomputers, and all other types of computers are "benefitting from increased Internet usage during the global Covid-19 virus health crisis," said Rob Lineback, senior market analyst for IC Insights. He said sales to these traditional computing segments will rise 2.2 per cent this year and account for 52 per cent of the total MPU market, which also includes application and embedded processors.
About 49 per cent of total MPU sales this year are expected to be generated by microprocessors built with the x86 architecture and sold by Intel and rival AMD for traditional PCs, servers, and mainframes. MPUs in touchscreen tablet computers—most of which are ARM-based system-on-chip (SoC) processors—are expected to account for 3 per cent of total MPU sales in 2020), while computer microprocessors made with architectures other than x86-based cores are forecast to be 1 per cent of the total.
Cloud drives demand
Lineback said that cloud computing and Internet service providers are driving up the server processor market by "mid-single percentage increases after a weak first quarter. The cloud computing segment is the strongest part of the server market", said Lineback. Intel is the "overwhelming leader" in server processors accounting for 90 per cent of units sold, he said.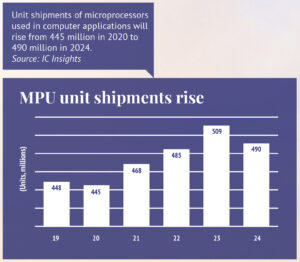 While cloud computing and the Internet are driving server and MPU growth during the pandemic, there is diminished demand from the enterprise segment which includes corporate and government. In fact, that segment cut back on purchases in 2019 before the pandemic because of excess computing capacity and the end of an upgrade cycle in x86 MPU-based servers, and concern about the global economy last year, said Lineback.
"We see some corporate segments in servers weakened by the pandemic and the economic fallout of the global health crisis," he said. Intel's third quarter sales reflected weakness in the government and enterprise segment. Its sales to the segment fell 47 percent in the quarter, the company said. However, Intel's processor sales for clouding computing grew 15 per cent in the third quarter.
AMD had strong processor sales because of stronger overall PC sales and healthy demand from the gaming segment.
"Our business accelerated in the third quarter as strong demand for our PC, gaming and data center products drove record quarterly revenue," said Dr. Lisa Su, AMD president and CEO. "We reported our fourth straight quarter with greater than 25 percent year-over-year revenue growth."
AMD's revenue increased up 56 percent year-over-year and 45 percent quarter-over-quarter. Su said for the fourth quarter of 2020, AMD expects revenue to increase 41 percent year-over-year and 7 percent sequentially.
Impact of Chromebooks
Strong demand, especially for processors used in servers, will also increase in 2021. However, processor demand is also being driven by lower-cost Chromebooks. "Chromebook runs on the Google Chrome operating system and it is an inexpensive platform. It tends to be one that school kids use quite a bit," said Lineback.
Chromebook shipments will grow from about 4 per cent of total personal computing systems shipments in 2019 to about 10 per cent in 2020, said IC Insights. Chromebook shipments will rise 140 per cent to about 43 million systems in 2020, said Lineback. That is good news for Intel which is the leading supplier of processors for Chromebooks.
For instance, HP uses a range of Intel x86 processors from low-end Celeron and Pentium processors up to 10th-generation Core i3, i5 and i7 MPUs in laptop Chromebooks that sell from $150 to a little over $1,000, said Lineback. AMD also builds processors for Chromebook segment and supplies them to HP and Lenovo among others.
While sales will increase for processors used in computers, revenue will decline for application processors used in mobile phones. Sales of applications processors will drop 3 percent to $20.9 billion because of the "economic fallout" from the pandemic, said Lineback.
However, cell phone sales are expected to improve in the fourth quarter as demand grows for new 5G handsets. As a result, application processor sales should increase and higher demand should carry over into 2021.
Demand has increased for processors used in embedded applications such as automotive systems, data networking, communications, industrial and medical equipment and consumer products.
The embedded-processor portion of the MPU market is expected to grow 5 per cent to $16.7 billion in 2020, according to IC Insights. Embedded applications will account for about 21 per cent of MPU sales in 2020, compared to 49 percent for x86 based computers; 26 per cent for cell phones, and 3 percent for tablets that use ARM-based or x86 architectures, the researcher said.