Fifth-generation wireless technology's speed and low latency will enable new applications and increase component demand.
Industrial, defense and aerospace and communications have always been important customer segments for electronics distributors, but technologies such as 5G, alternative energy, and artificial intelligence will likely have a significant impact on distribution over the next five years.
Those technologies will result in many new products that will create sales opportunities for distributors. For instance, 5G is usually thought of as the next generation mobile phone technology. However, once 5G networks and infrastructure are built out, they will enable a plethora of new commercial industrial and consumer applications other than smart phones.
One example is industrial Internet of Things (IoT). Industrial IoT has been a much-discussed topic in electronics distribution for 10 years. However, many distributors say that while it has grown over the years, the growth rate has been slow. However, the advent of 5G will change that. "Industrial IoT, will grow at a faster rate because of 5G," said Raymond Lin, director of technical content for Mouser Electronics. He said 5G will enable new applications because of its speed and low latency. Many new products will be designed and manufactured to take advantage of the technology and distributors will provide the expertise and components for many of them. Lin pointed out there are three major uses for 5G technology: enhanced mobile broadband applications such as HD video streaming and gaming, ultra-reliable low-latency communications, including industrial IoT appliances and autonomous machines and other larger IoT applications such as connected cars and smart cities.
He said 5G will enable the use of collaborative robots (Cobots) and autonomous mobile robots (AMRs) in industrial processes. 5G will also be used in telemedicine because its speed and low latency will mean doctors could treat patients in remote locations. For instance, with 5G technology in place, a surgeon could treat a patient at a location on the other side of the world using surgical robots. Yin said Mouser will be involved in all three areas, providing components and technical know-how to engineers designing new products that will take advantage of 5G technology.
The impact of 5G
Eventually 5G will have an impact on Mouser's sales. "The infrastructure needs to be in place to support all those applications," said Lin. "This year is going to be a good year for deployment. He said when the infrastructure is in place, "we will see growth. It won't be huge growth in 2021, but over the next several years" there should be healthy growth because of applications enabled by 5G, said Lin.
Rick Marano, president of Arrow's Americas components business, says that 5G and IoT will help drive Arrow's sales in the future. "Any time that new technologies are introduced that improve functionality or create new applications, it is usually a benefit to Arrow," said Marano. He said while it is true IoT has been "relatively slow to be adopted in non-traditional applications seeking to use electronics for the first time, we have also seen that customers with proven applications have been able to accelerate their business using these technologies." Besides 5G and IoT, "there are other areas where we see growth coming from in the future," said Marano. From a technologies standpoint, "we expect that cloud, silicon carbide, high-performance computer and wireless technologies to drive our growth," he said.
Marano said that changes in power architecture using silicon carbide is one area Arrow is watching. "We feel this technology will lead to significant component-level growth in the future as it impacts multiple vertical markets such as automotive, power generation and industrial," he said.
Many industry analysts say that silicon carbide semiconductors will be used more in certain applications because they can handle higher voltages than silicon chips and require fewer switches. That means fewer chips are needed for a board. In addition, silicon carbide chips can operate at higher temperatures than silicon semiconductors so they are more suited for equipment that needs to operate in harsh conditions. Electric vehicles, defense systems, wind power and solar inverters will use silicon carbide chips.
AI has potential
Marano added artificial intelligence has the potential to create new applications that would require components and "we are watching and preparing our teams in this area."
From a verticals perspective, aerospace and defense, automotive and the continuing electronification of traditional industrial applications will help drive sales, according to Marano.
Off-road vehicles, agricultural vehicles and equipment, and recreational boats have been areas of growth for Arrow and will continue to help drive sales growth in the future. Electronics content for such off-road vehicles and boats will continue to rise. As OEMs enhance their product offerings, "we see ourselves poised for growth with them based on our line card and engineering capabilities," said Marano.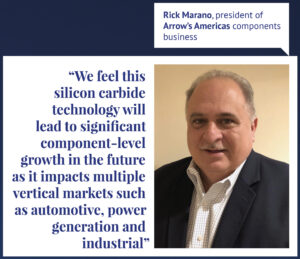 Automotive is also a growing segment for Mouser. "If you pick a major car company or someone doing work in the car industry, they are likely a customer of ours," said Coby Kleinjan, vice president, Americas customer service and sales for Mouser. "They are likely buying products from us in order to use the new technology or design new technology for cars that are going to come out."
Kleinjan added commercial aerospace will see a "tremendous upsurge both for redesign and improvement of existing fleets."
Aerospace and defense will remain strong for Arrow over the next five years as new programs launch. "As technology continues to advance, this space becomes target-rich for growth. We believe this vertical will continue to adopt new technology and grow with the changes," he said.
Greg Peloquin, executive vice president and general manager power and microwave group for Richardson Electronics, said the power management and wireless communication market will be key to Richardson's sales growth over the next five years.
5G, power management and energy storage are resulting in more small companies "trying to get their niche technology part to market. That is where a global niche distributor is very much needed and this is where we are seeing growth," said Peloquin. "We are seeing a lot of activity in the very high frequency millimeter bands as 5G has really helped to open that up."
The need for efficiency
He noted that industrial has always been a major customer segment for Richardson and will continue to be for years. "Energy efficiency is a major issue in many industrial accounts, which are big consumers of electricity," said Peloquin. "We are seeing a gradual migration to new technologies including silicon carbide active devices, and ultracapacitors for energy storage from our industrial accounts."
Alternative energy including wind power has been around for years but is becoming more of a growth driver for Richardson. "This is a key market for us. Richardson has both component technical suppliers in addition to our engineered solutions capabilities to build ultracapacitor module technology for pitch systems in wind turbines," said Peloquin.
Electric vehicles will also contribute to sales growth for Richardson over the next five years. It supplies ultracapacitors, IGBTS, and capacitors to the EV segment. "That includes everything from golf carts to race cars, and we are seeing increased demand from the agricultural market especially for ultracaps," said Peloquin.
He said Richardson has also seen a "healthy increase in its defense and aerospace business. "Generally, the battlefield is becoming increasingly high tech, with drone/UAV activity, digital comms, and stronger interconnections at every level," said Peloquin.