Strong revenue growth and robust demand is compelling chipmakers to add production capacity which should ease tight supply conditions later this year.
The worldwide semiconductor market will increase 19.7 per cent to $527 billion in 2021 because of strong demand from multiple customer segments, limited supply and rising prices for some chips.
Memory IC revenue, including NAND flash and DRAM, will rise 31.7 per cent, while sensor sales growth increases 22.4 per cent and analog IC revenue grows 21.7 per cent, according to the midyear outlook of World Semiconductor Trade Statistics (WSTS). Most other semiconductor products will post double-digit sales increases in 2021.
Semiconductor revenue growth will continue in 2022 but at a slower pace, as sales increase 8.8 per cent to $573 billion, the association said. The good news for semiconductor buyers is that while demand will be robust, tight supply and shortages will ease toward the end of the year as more capacity comes online as some chipmakers build new fabs and others upgrade their facilities.
Jim Feldhan, president of Semico Research, said the semiconductor industry posted strong growth in the second half of 2020 because of solid demand from multiple customer segments. Durable demand carried over to the first half of 2021 and will likely remain solid for the rest of the year.
Demand is strong from personal computers, tablets, servers, industrial, medical, automotive and consumer electronics equipment segments. A lot of demand, especially from consumer electronics equipment and computer manufacturers, was due to the coronavirus pandemic.
"People were working at home, schooling at home, entertaining at home," said Feldhan. Many people bought new computers, tablets and videogame systems which helped boost sales for many semiconductors including microcontrollers, memory ICs, power management ICs and other power semiconductors resulting in tight supply.
"Everyone is complaining about shortages," he said. "The shortages are interrupting production of cars in particular." Automakers had stopped production of many vehicles and canceled chip orders following the COVID-19 outbreak last year. Later in the year auto production resumed and carmakers and their suppliers increased semiconductor orders but chip manufacturers had switched production to semiconductors for other industries. The problem for automakers was exacerbated by the fact that automobiles and other vehicles are using more semiconductors each model year.
Better times are coming
While supply is tight and lead times have stretched to 52 weeks for some semiconductors, the good news is supply conditions for buyers should improve later this year and in 2022. Nina Turner, research manager, semiconductor applications forecaster enabling technologies: edge AI, automotive, and energy, said in the first half of this year there have been shortages and higher prices for some semiconductors. However, while "there will be constraints in the third quarter, they won't be across the board," she said. By the fourth quarter supply conditions will start to recover.
One reason is that buyers will likely not purchase as many parts in the second half as they did in the first half and overall demand won't be as strong. Many companies built up their inventories because of the supply chain disruption that resulted from the pandemic. "People are not confident about the supply chain. Nobody is confident that there is ability to do just-in-time manufacturing," she said.
Once inventories at OEMs and EMS providers reach certain levels, buyers won't need to buy as many parts. "It's the history of the semiconductor industry," when shortages occur, said Turner. "Buyers will over purchase, build their inventories and then stop buying parts from manufacturers and distributors," she said.
"Right now, there is over ordering and inventory building." However, if there is declining demand and more capacity comes online, lead times should shrink and prices decline. IIn fact, more capacity will come online this year and next because of increases in capital expenditures made by chipmakers in recent years Michael Yang, senior director, semiconductors for researcher Omdia, said the semiconductor industry is on a record pace for capital expenditures which will boost production capacity and supply in 2021.
He said the semiconductor industry will make $122 billion in capital expenditures 2021. "The bulk of that $122 billion will be for new fabs and new equipment," said Yang. Much of that investment will be for 300mm wafer fabs which can cost between $5-7 billion each.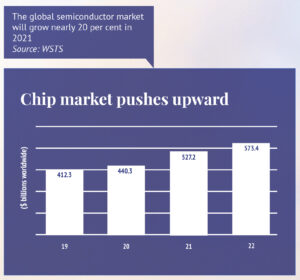 More fabs to be built
Trade association SEMI said semiconductor manufacturers will begin construction of 19 new fabs by the end of this year and 10 more in 2022 to meet growing demand for integrated circuits and discretes across a broad range of markets including communications, computing, healthcare, online services and automotive.
Of the 19 fabs that will be built, 15 will be foundry facilities with capacities ranging from 30,000 to 220,000 wafers per month. Memory IC manufacturers will begin construction on four fabs over the next two years. Those facilities will produce 100,000 to 400,000 wafers per month, according to SEMI. However, many of the new fabs won't start installing equipment until 2023 because it takes up to two years to build a facility. However, some may begin equipping by the first half of 2022.
"If you look at the major spenders – Samsung, TSMC, Intel – they have all dramatically increased their capex," said Feldhan. "TSMC has a couple of new fabs in Asia, Samsung has invested almost $25 billion last year and the year before it was $19 billion," he said.
While buyers welcome the news that new capacity will be added, Yang noted that the industry has been increasing capital expenditures for new equipment and facilities over the past five years. In fact, the industry has spent more on capital expenditures over the last five years than it did in the previous 10 years, he said.
Yang noted it takes two or more years for the impact of capital spending just to be felt in the form of increased semiconductor production. So investments made in 2021 probably won't be felt until 2023.
Investments made two or three years ago will likely boost capacity by this year, which will increase supply so lead times for some parts will shrink, he said. Supply increased 5 per cent in 2020 and will rise 6.3 per cent in 2021, according to Yang.
Demand remains strong
While chip capacity will increase this year and next, so will semiconductor demand. The question is by how much. Most chipmakers and industry analysts say semiconductor demand will stay strong through this year but will lessen in 2022. WSTS says chip growth will fall back to 8.8 per cent in 2022 from nearly 20 per cent this year. However, some analysts think that semiconductor demand and revenue in 2021 will be more robust than predicted.
During a recent Electronic Components Industry Association (ECIA) midyear industry outlook webinar, ECIA chief analyst Dale Ford noted that semiconductor revenue is growing because of broad-based demand for chips from multiple customer segments. Because of that demand and price increases, global semiconductor revenue may actually grow more than 20 per cent in 2021, he said. "I believe we will actually outperform the roughly 11 per cent growth forecast for the Americas" by WSTS.
In addition, he said there are indicators that semiconductor growth will be more "durable than a typical cycle." He noted WSTS forecasts 8.8 per cent growth forecast for 2022, but "I don't necessarily agree with the strong decline into the single digits. I believe there are factors that would point to a more durable growth pattern in 2022 and 2023," said Ford. "I believe the key technology market drivers are there to help sustain a stronger period of growth assuming there are no Black Swan events that we can't anticipate."