Miniature encoder ideal for computer accessories
TT Electronics has added three new product families and three series expansions to its variable resistor portfolio. Additions include one new encoder series and two new single turn potentiometer families, along with the broadening of three existing potentiometer families. These new products are ideal for rugged industrial applications such as welding equipment and machine controls, plus a variety of professional audio applications, including electric guitars, amplifiers and mixers.
As an example, the EN05 series miniature rotary encoder is an innovative solution for precision control of small portable equipment. They are designed for long life (100,000 cycles minimum) in a 5.8mm wide package. Its compact size and hollow shaft design make the encoder ideal for applications where space is limited but precise control is required, such as computer accessories and electronic devices.
TT Electronics' VP product management and engineering, Barry Peters, said: "With more technical variations than ever before, our portfolio offers designers greater flexibility to enhance the quality and reliability of their end products."
www.ttelectronics.com
High performance connections for harsh environments 
ane Electronics can modify 8STA connectors to customer's requirements in their in-house machine shop, on short lead times and with no MOQ on stocked items.
Souriau 8STA circular connectors share the same materials and design features with larger mil-spec connectors such as the popular D38999. They perform equally reliably under extreme conditions and are designed for applications where high performance, small size and light weight are key. 
Typical applications include Motorsport and UAV, engine control units, portable communications equipment and data acquisition systems. The 8STA Size 01 is the smallest circular connector available with three #26 removable contacts. It is the perfect solution for size and weight reduction in extreme vibration environments.
Key features include 13 shell sizes, up to 128 contacts from 3 to 200A and six/seven colour coded keyway orientations. Both free and panel-mount shell styles incorporate a compact integrated back shell for a heat shrink boot and the fixed halves are available with dual or space saving single hole panel-mount fixing. 
www.fclane.com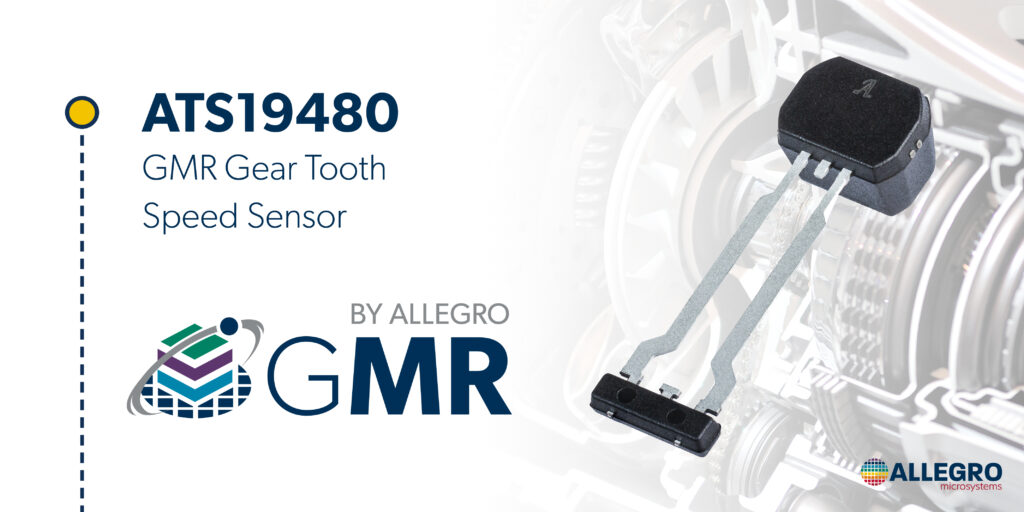 Gear tooth speed sensor offers industry-leading air gap 
Allegro MicroSystems' new giant magnetoresistance speed sensor measures the rotation of ferromagnetic gears. The ATS19480 speed sensor IC provides a single-channel solution for hybrid and pure electric vehicle transmissions, with applications extending to two-wheelers, off-road vehicles and machines requiring speed-only information. 
An industry-leading air gap 50 per cent larger than existing options improves design flexibility, expands design margin/tolerance capability and facilitates a wider range of sensor installation locations. This helps reduce system complexity, size, weight, cost and energy consumption. 
Allegro's magnetic speed business unit director, Peter Wells, said: "As our newest single-chip GMR solution for gear tooth sensing, the ATS19480 optimises performance for emerging electric vehicle applications. It's unique to the market and outperforms competing technologies because of the high air gap and level of accuracy. 
"Our new speed sensor allows designers to do things that haven't been possible until now. It can be placed virtually anywhere; transmissions can be smaller and lighter than ever before, which is especially important in applications where designers want the speed-only protocol. It's a real game changer."
www.allegromicro.com
Ready for USB-C applications
Cliff Electronics has introduced a versatile USB-C male to female connecting cable which supports charging at 60W, USB 3.1 5Gb/s data transfer speeds and can be used as a video cable for 5k@60Hz video output (Thunderbolt 3) and audio transmission.
When used in a system equipped with Cliff FeedThrough connectors—XLR and SLIM versions—the cable can be used to connect a monitor in the same way as existing HDMI and VGA FeedThrough connector versions. Cable lengths range from 0.3 to 2m.
Cliff Electronics' MD, John Hall, said: "USB-C ports are now appearing on many new devices including monitors, laptops and flash drives and 25 per cent of new cars are predicted to have them by 2025. Major mobile phone manufacturers are now designing USB-C connectors into their latest models enabling high speed charging and a one cable solution for charging."
The cables can be used with a range of Cliff USB-C XLR and DualSLIMS footprint female to male FeedThrough connectors, available in metal or plastic.
cliffuk.co.uk
Fuse holder features transparent cover
Hylec-APL's new DFH02 fuse holder features a transparent insulation cover which protects the fuse and simplifies installation and removal. The holders provide a secure and safe method for mounting fuses on all PCB types. Easier to install than fuse clips, holders are low-cost and ensure a reliable electrical and mechanical connection.
The 22.6mm pitch device can be directly mounted to the PCB (horizontal orientation) or thru-hole mounted (vertical orientation). Electrical rating is 6.3A at 250VAC maximum. 
Base material is glass-filled PA66, offering mechanical strength and dimensional stability. It meets UL94V-0 flame-retardancy standards. The transparent insulation cover is rated UL94-V2.
Dimensions are 13.5 (h) by 9.0 (w) by 22mm (l). Total height, with cover, is 15.0mm. 
www.hylec-apl.com
Adding colour film technology to PMVA displays
GTK has enhanced its PMVA display options by adding colour film technology. This custom film sits behind the PMVA glass and enables up to 12 colours, which compares favourably with printing technology which only allows a maximum of four colours. PMVA displays have the added advantage of excellent contrast ratios and a wide temperature range from -30 to 85°C.
PMVA displays are fundamentally monochrome but colour printing, LED arrays and colour film, lets OEMs add colours, resulting in reliable and cost-competitive products.
GTK's business manager for displays, Clive Dickinson, said: "This is a great addition to our display capabilities, as PMVA technology and its price point compares very favourably with TFTs. The new colour film technology opens up new possibilities for OEMs with the increase in colour combinations. This technology is ideal for a wide range of applications, including automotive, process controls, instrumentation, home automation, industrial controls and many more."
www.gtk.co.uk
AC/DC supply offers 300 per cent peak power 
Components Bureau has introduced Cosels' AEA600F power supply designed for applications requiring a high level of safety. The AC/DC 600W product offers 24, 36 and 48V outputs with respective current ratings of 25, 16.7 and 12.5A. Output voltage can be adjusted using a built-in potentiometer.
The product can deliver 300 per cent peak power for up to 1,000ms, suits body floating applications and complies with 2MOPP and 1MOPP safety requirement. The AEA600F is certified to the EN62477-1 Over Voltage Category Three (OVC III).
The AEA600F uses active power factor corrector and the switching stage uses an LLC resonant topology deploying the latest generation of power semiconductors, offering efficiency of up to 95 per cent.
For additional power up to six units can be connected in parallel. By adjusting the master output voltage the other units automatically adjust to an equal value.
www.componentsbureau.com
Aluminium enclosures tough yet easy-to-machine 
BCL Enclosures' new series of rugged, die-cast aluminium alloy enclosures is designed to protect electronic instruments. Rated to IP54 against dust ingress and water splashes from any angle, these enclosures provide excellent EMC protection. For easy PCB mounting, the side walls have a draft angle of two degrees or less.
Manufactured from aluminium alloy to BS1490, the enclosures are supplied in a natural die-cast finish with lap-joint construction. Lids are retained by M3.5 by 12 countersunk screws. The enclosures are easy to machine to suit individual applications. 
Seven sizes are available, ranging from 188 by 120 by 78mm to 52.5 by 38 by 27mm. 
bclenclosures.com
Low phase noise oscillators suit 5G
IQD has launched new low phase noise oscillators, the IQXO-408 and IQXO-455, available in industry standard packages measuring 2.5 by 2.0mm and 3.2 by 2.5mm. These CMOS clock oscillators can perform with a close in phase noise as low as -113dBc/Hz @ 10Hz and far out phase noise as low as -175dBc/Hz @ 100kHz. They are available at either 1.8, 2.5 or 3.3V with a phase jitter down to 40fs RMS (over 12kHz to 5MHz). 
As application requirements drive greater data rates, more ultra-low phase noise oscillators are required. Such applications are prevalent in connected environments such as fibre transceivers, gigabit Ethernet and 5G base stations.
The company states common uses for the IQXO-408 and IQXO-455 include IoT, 5G, PLL, frequency multiplier, clock recovery, gigabit Ethernet, fibre, studio grade and high-end consumer audio equipment.
www.iqdfrequencyproducts.com