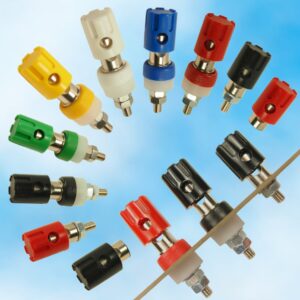 Fast, secure connections 
Cliff Electronics is offering a range of single-pole spring terminals designed to provide simple, fast and reliable connections. Applications include professional and consumer audio systems, test/measurement instruments, power supplies, industrial equipment and pyrotechnic installations. 
Terminal spindles and mounting hardware are manufactured from solid brass and nickel-plated. Plastic parts are moulded from glass reinforced nylon or polypropylene and mounting hardware is normally supplied unassembled. All are rated at 48V, 1A. 
Cliff Electronics' general sales manager, Dan Walker, said: "Single-pole spring terminals are used in a huge number of applications where fast, and often repeated, connections have to be made quickly and reliably. We can supply a range of mounting options to allow system designers and panel builders to find the best fit for their needs."
Mezzanine connectors target high-density industrial
Harwin has announced the Archer .8 series. With a 5mm stack height, these dual-row 0.8mm-pitch board-to-board connectors suit applications with limited space and where cost-effectiveness is important. Uses include factory automation, environmental monitoring equipment, smart meters, point-of-sales units, servers/data centre hardware and EV battery management systems. 
Each phosphor bronze contact can carry 0.5A. Available in 30, 40, 60, 80, 100 and 120 pin count versions, these connectors are polarised which helps orientation/alignment and prevents mis-mating. 
Harwin NPI product manager, Ryan Smart, said: "Archer .8 brings a whole new dimension to our industrial connector offering. These components combine the large pin counts and attractive price points that our industrial clients expect, as well as featuring the high levels of build quality that Harwin has always been well known for." 
Operating temperature range is -40 to 125°C.
Simplify safe signal transmission in sensor-actuator applications
Binder is adding further straight over moulded M8 snap-in connectors to the 718 product series. In addition to three and four pins, these are now also available in five and six-pin versions. They are available with either PUR or PVC cables up to 2 or 5m standard length. Customised lengths are available.
Since the locking mechanism does not require any rotating elements, these connectors are particularly easy to handle. While the electrical connection is established by mating and un-mating, the mechanical locking is provided by snap-in elements. These are pushed axially into one another during the mating process and then held in position by spring force. 
To release the connection, this force must be overcome and the plug pulled off backwards in an axial movement. As the connector latches and unlatches, a clicking sound will be heard. As a major advantage over screw or bayonet locking, the snap-in technique does not require any rotating elements. This makes the corresponding connectors very easy to handle, an essential requirement for efficient, time-saving installation.
Built for reliability
Lane Electronics is highlighting its Positronic industry standard D-Sub high reliability connectors for military, aerospace and industrial applications. 
All Positronic D-subs feature solid, machined contacts for reliability, durability and strength, with many series providing the option of the high-performance PosiBand contact. PosiBand contacts use a two-piece contact design. Each piece serves a separate function. The main body of the contact provides the mechanical platform for the contact system. This includes a true closed entry contact opening. The PosiBand spring clip provides normal force on the male contact. 
Several contact termination styles are available, including crimp, solder cup, PCB solder, PCB press-fit and wire wrap connections. Locking systems are implemented to ensure the connectors remain securely mated under shock and vibration conditions.
The standard density high reliability product types are available in six package sizes with 9-50 size 20 or 22 contacts with current rating per contact up to 14A. The Combo-D connector is a sub-category of D-sub connectors, which is characterised bya mixed density insulator that combines size 8 and size 20 or 22 contacts allowing for the combination of signal, power, fibre optic, coax and/or high voltage contacts in a single package. 
Save 86 per cent PCB space
Mouser has introduced TE Connectivity's Ampmodu 1.0mm centreline interconnect system which is said to offer 85 per cent PCB space savings when compared to standard 2.54mm pitch connectors. 
The dual beam contact design is engineered to provide a reliable electrical connection even in severe shock/vibration environments. The system serves a broad range of design requirements with up to 100 positions and two plating options with support for automated surface mounting and reflow processes.
Applications include: industrial controls, building/home automation, servo drives, PLCs, I/O devices, telecommunication equipment, robotics and instrumentation/test equipment.
Specifications of this SMT device include: vertical mounting angle, five to 50 positions per row, 1A max per contact, 30VAC operating voltage, 300VAC dielectric withstanding voltage and -55 to 125°C operating temperature range.
Compact connector features integrated backshell
Nicomatic has launched its new DBMM hi-rel connector range which combines the advantages of 2mm pitch metal DMM connectors with a new integrated backshell to provide 360 degree EMI shielding in an ultra-compact form factor. The design suits applications where space and weight are important such as missile systems, military aircraft and radar systems.
The connectors conform to MIL-DTL-83513G. Contacts can be signal, power and coax, with hundreds of thousands of combinations possible. 
The DBMM range measures only 15mm deep compared to a standard backshell and separate DMM connector which measures 35mm minimum, Nicomatic also states the new DBMM range is lightweight and easy to handle. A further advantage is cost when compared to DMM connectors with separate mono or split backshells.
Two models are currently available: the DBMM220 with four to 32 signal, power or coax contacts; and the DBMM320 which offers between six and 48 signal, power or coax contacts. Both models are available for straight to cable fix in either male or female orientation with D53B jackscrews.
Isolators and circulators delivered fast
Powell Electronics is now stocking connectorised coaxial ferrite isolators and circulators for space and defence applications from DiTom Microwave. The product line includes commercial-off-the-shelf and high-reliability ferrite isolators and circulators from 400MHz to 43.5GHz. 
Applications range from telecommunications and test setups to military aerospace and space flight applications. Customised versions are also available. Thanks to in-house testing capabilities at DiTom, all products are available on short lead-times.
DiTom's connectorised RF isolators provides narrow and broadband high performance, covering every band from UHF through Q-band. Ultra-low loss and high isolation models are available. With multiple connector type (N-Type, SMA, K, and 2.4 mm) and gender configurations as well as broad operating temperatures, DiTom isolators suit applications including 5G, phased array radar, VSAT terminals, satellite communications, test lab equipment and RF chain VSWR optimisation.
Models are available in popular 5G, RADAR, and VSAT bandwidths, plus every other band up to 43.5GHz. Maximum insertion loss is as low as 0.1dB and minimum isolation is as high as 30dB.